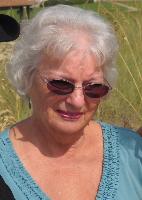 Dolores T. Cronin
Dolores T. Cronin, age 84, of Hawley died Thursday, April 27, 2017 at home. She was preceded in death by her husband of 57 years, Robert G. Cronin, in 2010.
Born March 30, 1933, in Queens, NY, she was the daughter of the late Aldrich Joseph and Mildred (Anderson) Klvana. Although she had worked for the Internal Revenue Service for many years, she dedicated her life to her husband, children, grandchildren and great grandchildren, all of whom adored her.
Formerly a resident of Hauppauge, NY, she had been a Hawley resident for almost 30years. She and her husband also wintered for many years in Florida. An active member of BVM Queen of Peace RC Church, she served as a Eucharistic minister, lector and volunteered in the church outreach programs. During her time in Florida, she often volunteered with education programs to assist the children of the immigrant workers.
She is survived by four daughters: Kathleen Pekoff and her husband Chris of Merrick, NY, Karen Cronin of Smithtown, NY, Connie Hawkins and her husband Fred of Hawley, and Peggy Murphy and her husband Michael of Scranton, SC; four sons: Robert Cronin of Vero Beach, FL, William Cronin and his wife Karen of Vero Beach, FL and Joseph Cronin and his life partner Pam Montambo of Montauk, NY, Kevin Cronin of Atlanta, GA ; 14 grandchildren: Katherine and Robert Cronin, Courtney Cronin, Christian, Dillon and Ryan Pekoff, James and Sean Montambo, Frank and Kelly Mangi, Andrew Hawkins, and Toniann, Jessica and Peter De'Tore; and 12 great grandchildren: Kayla, Nicole, Elijah, Angela, Noah, Damien, Zoey, Sophia, Mason, Julian, Christopher and Jacob.
She was preceded in death by two grandsons, Joseph A. Cronin and William J. Cronin Jr.
Dolores is also survived by one sister:Geraldine Born; two brothers: Bernard Klvana and Philip Klvana.
Calling hours will be Saturday, April 29, from 2 to 4 PM and Sunday, April 30, from 5 to 7 PM at Teeters' East Chapel, 505 Church St, Hawley, PA. There will be a Funeral Mass Monday, May 1, at 10:00 AM at BVM Queen Of Peace Roman Catholic Church, 314 Chestnut Ave, Hawley celebrated by Rev. Richard W. Beck, Pastor. Private cremation will be held at Lake Region Crematory following the Mass. Burial of the urn will be in Calverton National Cemetery, Calverton, NY.
Memorials may be made to Life Center of Long Island, 1767 Deer Park Ave., Deer Park, NY 11729 or www.lifecenterli.org