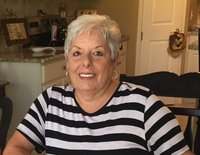 Linda J. Dimitrakakis
Linda J. Dimitrakakis, age 68, of The Hideout, Lake Ariel (formally of Valhalla, NY) unexpectedly passed on Wednesday, September 27, 2017 at Wayne Memorial Hospital in Honesdale. She is survived by her loving husband of 39 years Panagiotis "Peter" Dimitrakakis, two daughters: Antoinette and husband, Max Meinel of Monroe, CT and Kristina DiMaio of Valhalla, NY, and one son: John and wife, Marie Dimitrakakis of Fanwood, NJ; 3 grandchildren, Max Meinel Jr., Kristopher Peter Meinel and Ryker Dimitrakakis.
Linda Dimitrakakis was born August 26, 1949 in the Bronx, NY and was the daughter of the late Anthony and Flora (Masella) Bottone.
Linda was a loving wife and mother, with a very generous heart who loved to entertain her family and friends. She especially loved the holidays, enjoyed good company, playing bocce and dancing.
Linda was Co-Owner with her husband of the Corner Nook Café in White Plains, NY and was a member of the Hawley United Methodist Church.
Calling hours will be Monday, October 2nd from 3 to 7 PM at Teeters' East Chapel, 505 Church St, Hawley, PA. The funeral will be Tuesday, October 3rd at 11 AM at Hawley United Methodist Church, 315 Church St., Hawley with Rev. Jeff Levy officiating.
Inurnment will be in Green Gates Cemetery.
In lieu of flowers, memorials may be made to American Heart Association NEPA District, 968 Postal Rd, Suite 110, Allentown, PA 18109 in Linda's Name or visit http://honor.americanheart.org/site/TR/Events/General?pxfid=287881&fr_id=1030&pg=fund