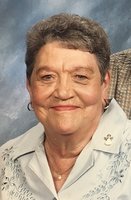 Joan Andersen
Joan Andersen, age 85, formerly of Grandpa's Woods in Tafton, died Sunday, October 1, 2017 at Belle Reve Senior Living Center in Milford.
Mrs. Andersen was born August 6, 1932 in Brooklyn, NY and was the daughter of the late Joseph and Albertine (Hanssen) Angle. She was predeceased by her husband, Richard A Andersen in 2010.
She was a homemaker and was a member of Tafton Volunteer Fire Department Ladies Auxiliary, St Paul's Lutheran Church Altar Guild, Sons of Norway.
She is survived by two daughters: Nancy Andersen of Brooklyn, NY and Barbara and her husband Paul Meberg of Pleasanville, NY and 3 grandchildren, Karen, Eric And Sonja Meberg
The funeral will be Sunday, October 8th at 4 PM at St. Paul's Evangelical Lutheran Church, 405 Church St., Hawley with Rev. Colleen E. Cox, Pastor, officiating.
Memorials may be made to St. Paul's Evangelical Lutheran Church, 405 Church St., Hawley, PA 18428