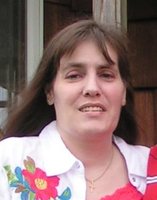 Patricia Marie Kaine
Patricia Marie Kaine, age 52, of Hawley died Saturday, November 4, 2017 at home. She is survived by her husband of nearly 30 years, Henry W. Kaine Jr.
Born February 12, 1965, in Jackson, TN, she was the daughter of Joseph F. and Johnnie Mae (Rodgers) Daleo of Phoenix, AZ. She worked as a bank teller in her younger years before staying home to concentrate on raising her daughters. She was a wonderful mother and grandmother.
In addition to her husband and parents, she is survived by two daughters: Emily Mae Horton of Phoenix, AZ and Mary Ann Ostrander of Beach Lake; four grandchildren: Aubryanna, Nahara and Wolfgang Horton, and Annabelle Ostrander; one brother: Joseph F. Daleo Jr.; and one sister: Michelle Nickeson of Stroudsburg, PA.
As were her wishes, her body was donated to Humanity Gifts Registry to be used in medical education and research.
A Celebration of Life will be held on Saturday, November 18, at 10 AM at Beach Lake Free Methodist Church, Milanville Rd., Beach Lake, PA.
Memorials may be made to American Cancer Society, Wayne Unit, 712 S. Keyser Ave., Taylor, PA 18517 or the Lewy Body Dementia Association, 912 Killian Hill SW, Lilburn, GA 30047 or visit www.lbda.org.