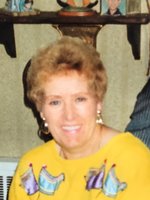 Agnes McBrearty Sgro
Agnes McBrearty Sgro, age 79, of Lackawaxen, PA, and formerly of Woodhaven, Queens, NY died suddenly Monday, November 6, 2017 at home.
Mrs. Sgro was born March 31, 1938 in East Greenock, Scotland and immigrated to NY at the early age of 18. She was the daughter of the late Robert and Susan (McBrearty) Elliott. In additon to her parents she was predeceased by two sisters, Frances (Elliott) Forster of Greenock, Scotland and Susan (Elliott) McGready of Northants, England.
Agnes always loved their weekend home in Masthope and in 1990 she and Vito left NY and became year-round residents in Lackawaxen, PA. She worked at The Woodloch Pines Gift Shop for over 20 years. Agnes' focus in life was her immediate and extended family and she always had an open door and plenty of homemade cooking for all guests. She enjoyed cooking, gardening and was an avid reader and a great story teller .
She is survived by her loving husband of 57 years: Vito Louis Sgro; two sons & daughters-in-law, Michael & Barbara (Gill) Sgro of Westfield, NJ; Richard & Paige (Leibowitz) Sgro of Island Park, NY; three grandchildren, Lauren, Jordyn and Jagger; one sister: Catherine (Elliott) Cann of Greenock, Scotland. She was a wonderful friend to all and will be dearly missed!
Calling hours will be Thursday, November 9th from 4 PM to 7 PM at Christopher Jordan Funeral Home, 302 Long Beach Rd, Island Park, NY, followed by a memory service at 7 PM.
Memorials may be made to Lackawaxen Ambulance Co., 109 Rt. 590, Greeley, PA 18425.