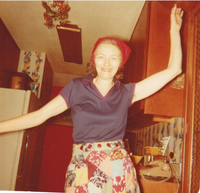 Mary Agnes Blute
Mary Agnes Blute, age 88, a resident of Wayne Woodlands Manor, Waymart, died Wednesday, November 15, 2017. She was preceded in death by her beloved husband of 32 years, Edward L. Blute, in 1995.
Born November 10, 1929, in Bronx, NY, she was the daughter of the late William and Anna Marie (King) Dacey. Formerly of Rockaway Beach, NY, she had been a member of St. Rose of Lima Roman Catholic Church in Rockaway Beach. She loved taking care of her grandchildren.
She is survived by two daughters: Mary Keane and her husband Michael of Hawley and Maureen Kraus of Hazleton; her grandchildren: Jean Marie Connolly and her husband Brendan, Mary Keane and her fiance Shane Grube, Timothy Kraus and his wife Kristan, Maureen Keane and her fiance Derreck Miller, Michael Keane, Jeremy Kraus, Edward Keane, John Kraus, Joseph Keane, Patrick Keane, Jacob Blute, KellyO Keane, Kimberly Keane, Matthew Keane, John Keane, Linnae Donohue, Rachel Keane and Christopher Keane; her great grandchildren: Andrea Cox, Dominic Rodriguez, Grace Miller, Kieran Connolly, Emily Miller, Lucian Connolly, Inola Connolly and Oliver James Kraus; one sister: Lillian Cassidy of Peekskill, NY; and many nieces and nephews.
She was preceded in death by her sister, Anna Roche, and two brothers, Francis and William Dacey.
Calling hours will be Sunday, November 19, from 2 to 5 PM at Teeters' East Chapel, 505 Church St, Hawley, PA. The funeral will be Monday, November 20, at 10:00 AM at BVM Queen of Peace Roman Catholic Church, 314 Chestnut Ave, Hawley, celebrated by Rev. Richard W. Beck, Pastor. Burial will be in Gate of Heaven Cemetery, Hawthorne, NY.