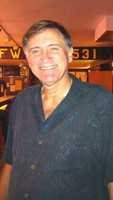 Albert Stephen Kobe
Albert Stephen Kobe, age 68, of Lakeville, PA and formerly of Maspeth, Queens, NY died Monday, December 25, 2017.
Mr. Kobe was born January 13, 1949 in Brooklyn, NY and was the son of the late Albert Harold and Edna (Schmalz) Kobe.
He served in the Army during the Vietnam War and was an engineer for NY Telephone/NYNEX.
Al was a member of VFW Post #531 of Honesdale; active member of the Boys Scouts of America, NYC Chapter; Rotary International in Honesdale; National Rife Association and the American Pool Association.
He is survived by his wife of 46 years: Lois Jean (Ballinger) Kobe, one daughter: Christine and her husband, Jason Saylor of Honesdale, PA and one son: Albert C. Kobe of Lakeville, PA; one granddaughter, Julie Saylor; five sisters: Margaret Hartmann of NY, Kathleen Maddalone of NC, Elizabeth Kobe-Marencik of NJ, Theresa Kobe of NC and Jeanne Sisinni of NY, and one brother: Paul Kobe of WV
Calling hours will be Thursday from 2 to 4 and 7 to 9 PM and Friday from 10 AM to 2 PM at Teeters' East Chapel, 505 Church St, Hawley, PA. The funeral will be Friday at 2 PM at Teeters' East Chapel with Father Marek Wasilewski, officiating.
Cremation will be at Lake Region Crematory in Lake Ariel.