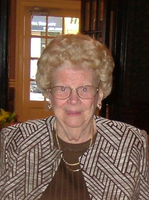 Ethel V. Gillen
Ethel Gillen, age 95, a resident of the Norwegian Christian Home, Brooklyn, died Friday, December 29, 2017, at Lutheran Medical Center, Brooklyn. She was preceded in death by her husband, John Joseph Gillen, in 1969.
Born November 6, 1922, in Rowland, PA, she was the daughter of the late Herman and Alma Victoria (Lindberg) Henriksen. She was a graduate of Hawley High School, Class of 1940. She maintained homes in Rowland, PA and in Brooklyn.
Ethel was a member of Bethel Lutheran Church in Rowland, Sons Of Norway, Bernt Balchen Lodge #566, Rowland, and The Jolly Dozen.
She is survived by one daughter: Carol Rollins and her husband Richard of Piscataway, NJ; one son: John Gillen and his partner John Nangle of Brooklyn, NY; and one granddaughter: Victoria Rollins and her partner Shane Bachert of Philadelphia, PA.
She was preceded in death by two sisters, Borghild Johnson and Lillian Bjelland, and a brother, Leif Henriksen.
Calling hours will be Sunday, January 7, from 1 to 4 PM and Monday, January 8, from 9 to 10 AM at Teeters' East Chapel, 505 Church St, Hawley, PA. The funeral will be Monday, January 8, at 11:00 AM at Bethel Lutheran Church, Church Road, Rowland, with Rev. Norman R. Beighley, Pastor, officiating. Burial will be in Rowland Cemetery, Rowland, in Spring.
Memorials may be made to Bethel Lutheran Church, PO Box 193, Church Rd., Rowland, PA 18454 or Norwegian Christian Home Foundation, 1270 67th St, Brooklyn, NY 11219.