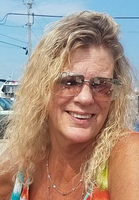 Kathleen May McKean
Kathleen May McKean, age 55, of Hawley died Thursday, January 4, 2018, at Geisinger-Community Medical Center in Scranton. She was preceded in death by her life partner, John C. Ryan, on May 19, 2017.
She was born June 17, 1962, in Honesdale, PA, and was the daughter of the late George R. and Margaret L. (Clark) McKean. In addition to her parents she was predeceased by a brother, George McKean, Jr and a nephew, George McKean III.
She was graduate of Wallenpaupack Area High School, Class of 1980. She grew up spending time with her family and friends at Fantasy Island.
Kathy was a bartender and a member of the Fraternal Order of Eagles in Honesdale. She and John traveled with the Staten Island Ski Club on many trips, their favorite being to Switzerland. She loved spending time with her family on their vacations to the Outer Banks in North Carolina. Her most peaceful hours were spent with John sitting on the banks of their beloved Lackawaxen River.
She is survived by one daughter: Lindsay Cron of Hawley; one son: Brandon Cron of Hawley; one granddaughter: Madeline Cron of Hawley; one sister: Dawn Bates of Hawley; one brother: John McKean of Hawley; and many aunts, uncles, nieces, nephews and cousins.
Calling hours will be Monday, January 8th from 2 to 4 and 7 to 9 PM at Teeters' East Chapel, 505 Church St, Hawley, PA. The funeral will be Tuesday at 11:00 AM at the funeral chapel, with Rev. William Samford, Pastor of First Presbyterian Church officiating.
Burial will be in St Ann's Cemetery in Shohola.
Memorial contributions may be made to the American Cancer Society, Pike County Unit, 110 West Harford St, Milford, PA 18337.