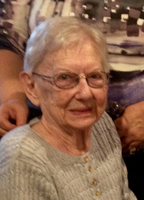 Alice Gertrude Zeiser
Alice Gertrude Zeiser, age 94, of Hawley died Wednesday, January 10, 2018 at Wayne Memorial Hospital in Honesdale.
Mrs. Zeiser was born October 27, 1923 in Glendale, Queens, NY and was the daughter of the late Gustave and Anna (Weinhof) Eidberger. She was predeceased by her husband, George in 1986 and a son William in 2008.
She enjoyed spending time with family especially her great grandchildren.
Alice worked in the Wallenpaupack School Cafeteria and at Woodloch Pines Resort.
She is survived by one daughter: Nancy Pace of Hawley, PA and two sons: Alan Zeiser of Stafford, VA and Steven Zeiser of Jennings, FL; eleven grandchildren and eight great grandchildren.
The funeral will be Saturday, January 13th at 2 PM at St. Paul's Lutheran Church, 405 Church St., Hawley with Rev. Colleen E. Cox, Pastor officiating.
Inurnment will be in Green Gates Cemetery in Hawley.
Memorials may be made to St. Paul's Lutheran Church, 405 Church St., Hawley, PA 18428