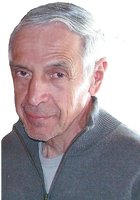 Joseph Lizzio
Joseph M. Lizzio, 84, a longtime resident of Woodloch Springs, Hawley, PA, died January 16, 2018 at Creekside Rehab and Health, Carbondale, PA. Joe was born September 7, 1933 in Central City, PA. A graduate of Niagara University BBA and Pace University MBA, Joe was comptroller at Pace University, New York, NY for 25 years. He served his country honorably as an Army Corporal during the Korean Conflict.
In his retirement years he played golf earning a hole in one, enhanced his computer skills and was active in community affairs. There was always a new project ahead. Some of his favorite events were a Roaring Twenties Golf Tournament, a World War II Veterans Celebration, a Veteran's Memorial twice a year, and a putting contest to beautify the Woodloch Golf Course.
Joe was a former director of the Lackawaxen Ambulance Corps, member of the Advisory Board at Woodloch, leader of several "away" golf tournaments, initiator of a "Donate and Save" program to benefit needy neighbors, and an outdoor movie night with the audience seated on golf carts.
Survivors are his wife of 59 years, Joan, his children: Karen Warden (Bob), Paul Lizzio and Therese Lizzio (Mike Cammack), grandchildren Lindsay and Bob Warden, Paul Thomas and Samantha Lizzio-Cammack. Two brothers also survive John (Loryce) and Jim (Ann).
Joe was predeceased by his parents, Carmella and John Lizzio, a brother Alfred, a sister Betty and a granddaughter, Amanda.
We would like to thank his doctors: Drs. Kim, Molloth, Preate, Roe and Sternberg as well as the entire Creekside staff who were wonderful to him.
Visiting hours will be January 19, 2-5pm at Teeters Funeral Chapel, Hawley PA. A Mass of Christian Burial will be held at Saturday at 10:00 am at Queen of Peace in Hawley PA.
Memorial donations may be made to Lackwaxen EMS/Ambulance Corp,, 1611 Route 590, Hawley, PA 18428 or Wayne Memorial Hospital, Parkinson's Support Group, 601 Park St, Honesdale, PA 18431.