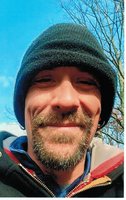 Joel Rodrick Clifford
Joel Rodrick Clifford, age 38, of Hawley died Monday, February 5, 2018.
Mr. Clifford was born September 9, 1979 in Lemoore, CA and was the son of Thomas J. and Diane M. (Schatz) Clifford.
He was a landscaper at Lords Valley Country Club. Joel enjoyed camping, rafting on any river especially the Delaware, woodcarving and thrill seeking like skydiving.
He is survived by his parents, Thomas J. and Diane M. Clifford of Hawley, his wife, Linit Evans, one daughter: Lily Renee Clifford, two sisters: Amanda Clifford of Tafton, PA and Alaina McHale of Hawley, PA, and one brother: Jared Clifford of Paupack, PA, and many nieces and nephews whom he loved dearly.
A Celebration of LIfe will be held at 2 PM on Sunday, February 18, 2018, at Teeters' East Chapel, 505 Church St., Hawley, PA 18428. Friends may call from 12 to 2 PM.
Cremation will be at Lake Region Crematory in Lake Ariel.
Memorial contributions may be made to the family to assist with funeral expenses.