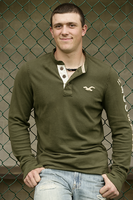 Ian Scott Dassance
Ian Scott Dassance, age 25, of Paupackan Lake Estates, Hawley passed Tuesday, February 6, 2018.
Mr. Dassance was born October 2, 1992 in Honesdale, PA and was the son of Julie Marie Herzog and the late Leon Michael Dassance.
Ian was a graduate of WAHS class of 2011 and attended Johnson Tech, where he became a welder. Ian was a natural born athlete, playing baseball, basketball and football while attending Wallenpaupack Area School. His passion was baseball and while he could play any position, he excelled at shortstop and pitcher. He also played baseball on the METS traveling team in his teens and more recently with Northeast Pride.
His family is comforted to know that he is playing baseball again with his Grandpa Herzog, while his Dad is watching and cheering him on.
He is survived by one son: Leon Michael Dassance of Lakeville, PA; his mother, Julie Marie Herzog of Lakeville, PA; his brother, Adam Emmans of Minnesota; his grandmother, Barbara Herzog of Lakeville, PA; aunts & uncles: Melissa Herzog & Peter Amato of Hawley, PA, Stacey & Frank Williams of Lakeville, PA; Tricia Herzog of Lakeville, PA and Alfred Herzog of Dundee, NY; his girlfriend, Jolene Marie Woznicki of Lakeville, PA and cousins Riley & Quinn Williams, Zane Herzog, Alivia & Allie Herzog and Kelly, Haley & Haydan Truax.
Calling hours will be Sunday, February 11th from 3:30 to 7:30 PM at Teeters' East Chapel, 505 Church St, Hawley, PA. The funeral will be Monday, February 12th at Noon at Lakeville United Methodist Church, 431 Purdytown Turnpike, Lakeville with Pastor Fred C. Snyder, officiating.
Burial will be in Lakeville Cemetery.
Memorials may be made to Leon Michael Dassance College Fund, C/O Dime Bank, 309 Main Ave, Hawley, PA 18428