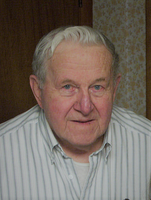 Michael Nalesnik
Michael Nalesnik, age 91, of Hawley and formerly of Bayonne, NJ, died Tuesday, February 6, 2018 at Ellen Memorial Health Care Center in Honesdale.
Michael Nalesnik was born January 30, 1927 in Bayonne, NJ and was the son of the late Andro and the late Anna (Fedorochko) Nalesnik. In addition to his parents he was predeceased by a granddaughter, Andrea Nalesnik, four sisters: Julianna, Mary, Anna and Helen and two brothers: John & Andrew.
Michael served in the Navy during World War II and the Korean Conflict. He was a bookkeeper for Woodloch Pines Resort in Hawley, PA.
Michael was an avid woodworker, stamp collector, active with the internet and computers and was an early proponent of self-sufficiency.
He is survived by his wife of 68 years: Irene Mary (Furey) Nalesnik; four sons & daughters-in-law, Dr. Michael & Cathy Nalesnik of Pittsburgh, PA; Scott & Sherri Nalesnik of Hawley, PA; Donald & Maralyn Nalesnik of Hawley, PA; Steve & Dr. Darlene Nalesnik of Hawley, PA; seven grandchildren, three great grandchildren and several nieces and nephews.
Calling hours will be Saturday, February 17th from 1 to 2 PM at Teeters' East Chapel, 505 Church St, Hawley, PA, followed by a memorial service at 2 PM with Deacon Matthew Lorent officiating.
Inurnment will be in Green Gates Cemetery in Hawley.