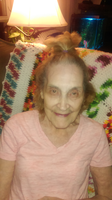 Edith Mae Walsh
Edith Mae (Howells) Walsh, age 97, of Hawley died Thursday, March 8, 2018 at Wayne Memorial Hospital in Honesdale. Born October 4, 1920, in Bangor, Maine, she was the daughter of the late Robert W. and Elizabeth A. (Splude) Howells. She was a World War II Army veteran.
Edith was a former member of VFW Robert Drake Post and volunteered at the Other Shop and Meals On Wheels.
She is survived by four grandsons: Michael Savich of Lake Ariel, PA; Patrick Walsh and his wife Michelle of Toms River, NJ; Peter Walsh of MA; Chris Connelly and his wife Lindsey Shutt of Hawley, PA; five granddaughters: Kelly Horn and her husband Larry of NJ; Cheryl Savich of Olyphant, PA; Katie Walsh of Toms River, NJ; Tara Savich of Lake Ariel, PA; and Kerry Walsh of NJ; her daughter-in-law: Agnes Walsh; two sons-in-law: Ron Savich of Lake Ariel and Corey Connelly of White Mills; and twelve great grandchildren.
Edith was predeceased by two daughters, Ruth Savich and Peggy Connelly and a son, Robert Walsh.
Calling hours will be Monday, March 12th from 1 to 3 PM and 5 to 7 PM at Teeters' East Chapel, 505 Church St, Hawley, PA. A Mass of Christian Burial will be celebrated Tuesday, March 13th at 10 AM at BVM Queen Of Peace Roman Catholic Church, 314 Chestnut Ave, Hawley by Rev. Richard W. Beck, Pastor.
Burial will be in Fort Indiantown Gap VA National Cemetery, Annville, PA.
Memorials may be made to Dessin Animal Shelter, 138 Miller Rd., Honesdale, PA 18431