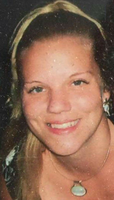 Susan M Cresta
Susan M Cresta, age 41, of Paupackan Lake Estates, Hawley died Wednesday, March 14, 2018.
She is survived by her husband: Thomas Louis Cresta and two sons: Angelo Cresta and Eric Tropea.
A private memorial service will be held at the convenience of the family.
Cremation will be at Lake Region Crematory in Lake Ariel.
Memorial contributions may be made to Teeters' Funeral Chapel, 505 Church St, Hawley, PA 18428, to help with final expenses.