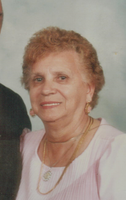 Hattie Mangano
Hattie Mangano, age 97, of Lakeville died Sunday, March 18, 2018 at home. She was preceded in death by her husband of 70 years, Joseph C. Mangano, in 2010.
Born April 14, 1920, in Bayonne, NJ, she was the daughter of the late Michael and Rose (Brodowell) Selobyt.
She is survived by one daughter: Rosemarie Hoesly of Lakeville; one son: Philip Mangano and his wife Paula of Washington, NC; one daughter-in-law: Kathy Mangano of Jackson, NJ; numerous grandchildren and great grandchildren; and many nieces and nephews.
She was preceded in death by a son, Joseph Mangano.
Calling hours will be Thursday, March 22, from 2 to 4 PM at Teeters' East Chapel, 505 Church St, Hawley, PA. The funeral will follow at 4:00 PM at the funeral home. Burial will be in Hollywood Memorial Park, Union, NJ, on Friday, March 23, with a Graveside Service at 11:30 AM.