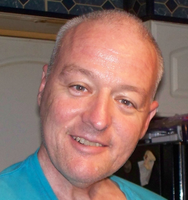 George J. Lee
George J. Lee, III, age 61, of Hawley passed away at Geisinger-Community Medical Center, Scranton, on Thursday, March 22, 2018, just shy of his 62nd birthday.
Born April 4, 1956, in Hackensack, NJ, he was the son of Catherine A. (Sammartano) Lee and the late George J. Lee Jr. George was a graduate of Don Bosco High School in Ramsey, NJ. He had an Associates Degree in applied science from Bergen Community College in Paramus, NJ. He earned his Bachelor of Arts Degree in accounting from William Paterson University in Wayne, NJ.
He worked at Interstate Bowling Lanes in Mahwah, NJ in his youth. He was a survivor of Hodgkin's Disease in his twenties. Prior to his retirement, he was an accountant at International Wire in Wyckoff, NJ.
He enjoyed guitars and rock music. His love of sports included his teams the NY Yankees in baseball and the NY Rangers in hockey. Swimming and the shore were both a great joy. He had a love of numbers and always remembered birthdays.
He leaves behind his mother: Catherine A. Lee of Allendale, NJ; two daughters: Katherine A. Lee and Laurie Frisbie, both of Hawley; one son: Gregory Robert Lee also of Hawley; one sister: Donna Schweizer of Mahwah, NJ; a nephew: Lee Schweizer and his wife Sarah of Franklin Lakes, NJ; a great niece and nephew: Landon and Mackenzie Schweizer; his dear friend: Pamela Frisbie of Hawley; as well as many 4-legged grandchildren.
Private cremation was held at Lake Region Crematory, Lake Ariel.