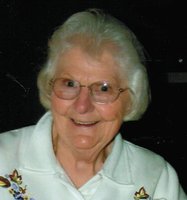 Hazel Louise Hopps
Hazel Louise Hopps, age 93, a lifetime resident of Paupack, PA died Monday, March 26, 2018 at Wayne Woodlands Manor in Waymart.
Mrs. Hopps was born August 11, 1924 in Sundown, NY and was the daughter of the late John and Bessie (Countryman) Coddington. In addition to her parents she was predeceased by her husband, Anthony Raymond Hopps in 1988, a son, Duane Hopps, a daughter, Norma Smink and a grandson, Kurt Keller.
Hazel ran Hopps Store in Paupack with her husband.
She is survived by one granddaughter, Kim & her husband, Michael Knappenberger of Paupack, PA; one grandson, Karl Keller of Hawley, PA; one great granddaughter, Casey Waldie; two great grandsons, Trevor Knappenberger and Kurt Keller II; two great great grandchilldren, Mylee & Xander Waldie; many nieces and nephews.
Memorial contributions may be made to the donor's favorite charity.
Private services will be held at the convenience of the family.