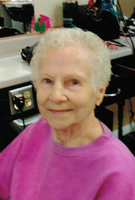 Helen D. Coutts
Helen D. Coutts, age 87, of Paupack died Thursday, March 29, 2018 at home.
Mrs. Coutts was born April 25, 1930 in Elmhurst, PA and was the youngest and last surviving of eleven children of the late Edward and Anna (Foster) Sprandel. She was predeceased by her husband, Robert C Coutts in 2002.
She is survived by many nieces, nephews, great nieces and great nephews.
A graveside service will held at Pine Grove Cemetery in Paupack.
Memorials may be made to Dessin Animal Shelter, 138 Miller Rd., Honesdale, PA 18431