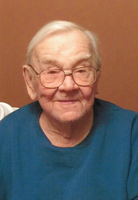 Joseph P. "Jazzer" Beilman
Joseph (Jazzer) P. Beilman, died peacefully at home, surrounded by family, on Friday, February 1, 2019.
Born March 21, 1921, Joe was a lifelong resident of Hawley, the son of Leo and Nellie (Drake) Beilman. Born at home on Keystone Street, at the age of 5 he and his family moved to Wangum Avenue where he lived for the next 92 years. He was a 1939 graduate of Hawley High School.
Not long after finishing high school, Joe worked as the cutting floor manager at Sherman Underwear Mill. Later he would take over the family gas station on Main Street, calling it Joe's Sunoco, where he remained in business for over 40 years. He also served as Sealer of Weights and Measures and was a member of Hawley Volunteer Ambulance Company in its early years.
Joe was active in local politics, having served as Borough Tax Collector for 40 years. Election days were always a busy time in the Beilman house.
He was a member of BVM Queen of Peace Church (formerly St. Philomena's) his entire life. During the 50's and 60's he drove priests to the area mission churches. He was an usher in church, and a 67-year member of the Knights of Columbus. A devoted Catholic, Joe never missed Mass and prayed the Rosary daily.
Joe was an avid photographer who enjoyed processing his own film and prints. An outdoorsman, he enjoyed hunting, loved fly fishing for trout on the Lackawaxen, and traveling to many of the area's ponds and lakes for bass.
He loved people and delighted in talking to all. His Sunoco station on Main Street was a popular spot for locals to come, sit a spell, and share the latest happenings in town. Some even had their own special chairs. Until the end, Joe had an incredible memory of early Hawley life, recalling names and events back to his childhood.
Joe took great joy from his beloved grandchildren and great-grandchildren. He was always offering them candy and telling them funny stories. They, in turn, loved him all the more.
Surviving are two sons: Joseph and Michael and his wife Karen, all of Hawley; one daughter: Kathleen Costa and her husband Frank of Honesdale; four grandchildren: Brendan Beilman and his fiancée Steph, Lisa Beilman, Kathryn Beisel and her husband Walter, and Serena Costa; two great-grandchildren: Wilhelmina and Evangeline Beisel; one sister: Ellen Clifford of Manhasset, NY; and several nieces and nephews.
He was predeceased by his wife of 60 years, Frances; a son, James; a brother, Leo; and a sister, Mary.
Calling hours will be Monday, February 4, from 6 to 8 PM at Teeters' East Chapel, 505 Church St, Hawley, PA. There will be a Funeral Mass on Tuesday, February 5, at 10:00 AM at BVM Queen Of Peace Roman Catholic Church, 314 Chestnut Ave, Hawley, celebrated by Rev. Richard W. Beck, Pastor. Burial will be in B.V.M. Queen Of Peace Cemetery, Hawley, on April 22, 2019 at 10AM.
Memorial donations may be made to Lupus Foundation of America, 68 E. Northfield Rd. D, 1L, Livingston, NJ 07039 or www.lupus.org