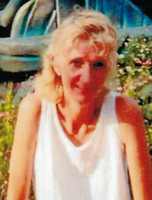 Darlene Nellie Bidwell
Darlene Nellie Bidwell, age 65, of Simpson died Wednesday, February 13, 2019 at Allied Services Hospice Center in Scranton.
Ms. Bidwell was born February 26, 1953 in Middletown, NY the daughter of the late Everett Ross and Marion Lou Masker. In addition to her parents she was predeceased by six siblings: Sandy Masker, Emma Masker, Violet Masker, Everett Ross Masker, Jr., Mary Elizabeth Masker & Richard Leroy Masker.
She was a warehouse worker, truck driver, shoemaker for Endicott Johnson, sandwich maker and seamstress at Sherman Mills.
Darlene attended the Salvation Army Church in Scranton. She liked fishing, cookouts, spending time with her family, friends and her pets and listening to the oldies.
She is survived by one daughter: Victoria Summer Rose Bidwell of Simpson, PA and two sons: Bernard J Bidwell of Simpson, PA and Brandon W Ritter of Simpson, PA, three sisters: Gloria Ann Eck of Honesdale, PA, Penny Candy Rowe of Green Valley, AZ and Bonnie Lou Masker of Mayfield, PA, and two brothers: Robert Allen Masker of Simpson, PA and Theodore Edwards Masker of Mayfield, PA; five grandchildren, Dylan Alexander Bidwell, Ryan J Hynes, Jr., Serena Viola Wooley, Coty Sebastian Bidwell, Brittany Lynn Bidwell.
The funeral will be Friday, February 15th at 2 PM at Montdale United Methodist Church, 961 Lakeland Dr, Olyphant.
Cremation will be at Lake Region Crematory in Lake Ariel.
Memorials may be made to American Cancer Society, Wayne Unit, 712 S. Keyser Ave., Taylor, PA 18517