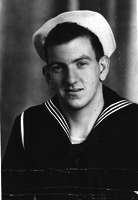 Andrew Everard Love
Andrew Everard Love, age 93, of Hawley died Tuesday, February 12, 2019, at Leesburg Regional Hospital, Leesburg, FL. He is survived by his wife of 62 years, Sally Ann (Kammerer) Love.
Born May 18, 1925, in Moonachie, NJ, he was the son of the late Bernard August and Eunice (Craig) Love. A World War II Navy veteran, he worked as a USPS letter carrier supervisor until his retirement in 1980. He then moved with his family to Hawley and worked at Woodloch Pines until 1996.
Andy was the Lackawaxen Township Auditor for 12 years. He was a member of Hawley United Methodist Church, where he formerly served as chair of trustees for more than 20 years. He was also a member of the American Legion Wilson-Kelch Post #311, the Pike County and PA State Fire Police as well as a member of Central Volunteer Fire Department. An avid golfer, he was a member of Cricket Hill Golf Course and a life member of Woodloch Springs.
He was a 70-year member of the National Association of Letter Carriers and the National Association of Retired and Active Federal Employees. While living in New Jersey, he was a member of Friendship Engine and Hose Co. in Moonachie, the Carlstadt Fife, Drum and Bugle Corps., a Cubmaster in Woodridge and a Little League coach.
In addition to his wife, he is survived by two sons and daughters-in-law: Andrew and Pamela Love of Columbia, MD and Robert And Kristen Wall-Love of Salisbury, MD; three grandchildren: Robert, Jackson and Gabrielle Love.
He was preceded in death by 6 sisters and 3 brothers.
Calling hours will be Tuesday, February 19, from 1 to 2 PM at Hawley United Methodist Church, 315 Church St., Hawley, PA. The funeral will follow at 2:00 PM at the church with Rev. Jeff Levy officiating. Burial will be in Green Gates Cemetery, Hawley.
Memorials may be made to United Methodist Church Food Pantry, 315 Church St., Hawley, PA 18428 or Central Vol. Fire Dept., PO Box 209, Rowland, PA 18454