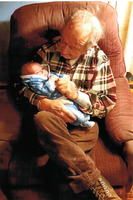 Clyde R. "Tinker" Swingle
Clyde R. "Tinker" Swingle, age 86, of Hawley died Tuesday, April 16, 2019, at Julia Ribaudo Extended Care Center, Lake Ariel. He was preceded in death by his wife of 54 years, Evelyn E. (McKane) Swingle, in 2006.
Born October 27, 1932, in Lake Ariel, he was the son of the late Alvin and Ruth (Ransom) Swingle. He was a graduate of Lake Ariel High School and moved to Hawley in 1950. Prior to his retirement, Tinker worked as a self-employed excavator and attended the Hawley United Methodist Church.
Tinker is survived by one son: Michael Swingle of Hawley, one sister: Sharon Wheeler of Moscow, and one brother: Bruce Swingle of Lake Ariel.
He was preceded in death by a son, Clyde Richard Swingle Jr., and s sister, Jean Upright.
Private cremation was held at Lake Region Crematory, Lake Ariel. A graveside service will be held at Green Gates Cemetery at 2 PM Saturday April 27th.
Memorials may be made to Hawley United Methodist Memorial Fund, 315 Church St, Hawley, PA 18428.