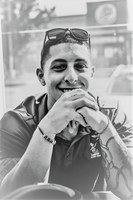 Peter Dean ""Petey"" Kotsos
Peter Dean "Petey" Kotsos, age 25, of Greentown died Tuesday, April 16, 2019. He was recently preceded in death by the love of his life and soulmate, Victoria Lynn Bachmann.
Born June 2, 1992, in Queens, NY, Petey was the son of Pete and Lisa Karen Kotsos, also of Greentown. A Class of 2011 graduate of Wallenpaupack Area High School, he worked as a painter.
In addition to his parents, he is survived by his sister: Nicole Kotsos of Mill River, MA; his maternal grandparents: Frank and Connie Vina of Riverside, FL; and countless friends who will miss him beyond measure.
Calling hours will be Saturday, April 20, from 12 to 2 PM at Teeters' Funeral Chapel, 505 Church St, Hawley, PA. The Memorial Service will follow at 2:07 PM.