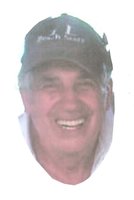 Patsy "Pat" Radice
Patsy Radice, age 85, of Tanglwood Lakes, Greentown died Wednesday, April 24, 2019 at home.
Mr. Radice was born September 4, 1933 in Italy and was the son of the late Michael and Rose Radice.
He was a manager for National League of Nursing.
He is survived by his wife of 41 years: Christine I. (Hohns) Radice and three sons: Steven & his wife, Joan Radice of Bayside, NY; Pat M. & his wife, Deanna Radice of Lake Ariel, PA, Gary Radice of Long Island, NY, daughter & son-in-law, Ann & Dennis Baptista of Phillipsburg, NJ; and 4 grandchildren, Katelyn, Joseph, Aeriel & Cameron.
Cremation will be at Lake Region Crematory in Lake Ariel.