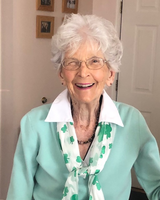 Claire "O'Loughlin" Assip
Claire Assip, age 90, of Woodloch Springs, Hawley and formerly of Brooklyn, NY, died Wednesday, April 24, 2019 at Geisinger-Community Medical Center in Scranton.
Mrs. Assip was born February 7, 1929 in Brooklyn, NY and was the daughter of the late Walter and Rose (Peaty) O'Loughlin. She was predeceased by her husband, Laurence J. Assip in 2007.
She was a retired patient representative in the medical field.
Claire like playing bingo, cards and mahjong and was an avid Yankees fan. She hosted a Super Bowl Party for the guys and was the only female.
She is survived by two daughters: Diane Assip of Bellerose, Queen, NY and Tricia & her husband, Bill Balmes of Wall Township, NJ; son & daughter-in-law, Laurence A. & Pam Assip of Bellerose, NY; grandchild, L.J. & his wife, Anna Assip; Bridgete Assip; Shandra & her husband Jim Caruso; Christopher Valez; Kaitlyn & her husband, Liam Balms; great grandchildren: Joseph, Maria, Veronica, Dominic And James.
Calling hours will be Saturday, April 27th from 3 to 6 PM at Teeters' East Chapel, 505 Church St, Hawley, PA and Tuesday, April 30th from 4 to 8 PM at Duffy Funeral Home, 255 9th St, Brooklyn, NY. A Mass of Christian Burial will be celebrated Wednesday, May 1st at St. Saviour Roman Catholic Church in Brooklyn, NY.
Burial will be in Holy Cross Cemetery in Brooklyn, NY.