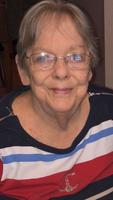 Kathleen F. Brice
Kathleen F. Brice, age 75, of Hawley died Friday, April 26, 2019 at Geisinger Medical Center, Danville. She was preceded in death by her husband of 47 years, Eugene J. Brice, Sr. in 2016.
Born February 4, 1944 at Brooklyn, NY, she was the daughter of the late Edward Joseph and Ellen (Shields) Pratt. She moved with her family to Hawley in 1980. An avid bingo player, she most loved spending time with her granddaughters.
She is survived by one daughter: Denise M. Brice and Tim Swartwood of Hawley; one son: Gene J. Brice Jr. and his wife Denise L. Schmalzle Brice of Lords Valley; four granddaughters: Briella, Kinzey and Sophia Brice, and Nevaeh Swartwood; two brothers: Martin Pratt of Wyoming, NY, and James Pratt of Queens, NY, one sister-in-law: Fran Barbato and her husband Tony of Honesdale; and many nieces and nephews.
She was preceded in death by four brothers, Edward, Richard, Robert and Thomas Pratt.
Calling hours will be Saturday, May 4, from 1 to 4 PM at Teeters' Funeral Chapel, 505 Church St, Hawley, PA. The Memorial Service will follow at 4:00 PM at the funeral home. Private cremation was held at Lake Region Crematory, Lake Ariel.