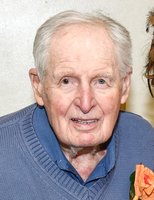 Eugene G Baerenrodt
Eugene G Baerenrodt, age 91, of Tanglwood Lakes, Greentown died Thursday, May 9, 2019 at Belle Reve Senior Living Center in Milford.
Mr. Baerenrodt was born August 24, 1927 in Caldwell, NJ and was the son of the late Eugene and the late Margaret (Steckman) Baerenrodt.
He served in the Army during World War II, was a graduate of Lafayette and was a retired sales representative.
Eugene was a member of the Wallenpaupack Yacht Club and Flying Hawks Airplane Club in Milford.
He is survived by his wife of 41 years: Dorothy G (Rosenfeld) Baerenrodt, one daughter: Beth Baerenrodt and one son: Mark Baerenrodt
A celebration of life will be held at a time to be announced.
Cremation will be at Lake Region Crematory in Lake Ariel.