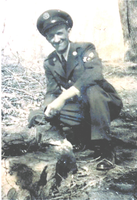 Joseph A Smith
Joseph A Smith, age 91, passed away Wednesday, June 19, 2019 at his home at Adelia Farm surrounded by his family and his dog, Buttercup.
Joe was born December 19, 1927 in Honesdale, PA and was the son of the late Albert and Clara (Dapper) Smith. He is preceded in death by his wife, Jane (Kuhn) Smith, a daughter, Wendy Knorr and his older brother, Albert (Sonny) Smith.
He is survived by his daughter: Karen L. Martin & her life partner, Jerry McDonald of Honesdale, PA; five grandchildren: Julie & Herb Peet; Sarah & Brett Schagelin; Farrington & Dawn Martin; Benjamin Martin; Nathaniel Martin; four great grandchildren, Aiden Pierson; Gavin Pierson-Niles; Kirsten, Morgan And Lathan Doss; one great great grandchild, Colton Pierce. He was a devoted husband and father. He was loved by many people in town and was adopted as their father also.
Joe served in the U.S. Army and U.S. Air Force from 1947 to 1953. He was employed by the Federal Government at Tobyhanna Army Depot for 30 years as a fire fighter. His biggest pride was his promotion to Assistant Fire Chief.
Joe was a lifelong resident of Honesdale/Hawley and with his sunny, friendly personality, knew many people. He was always the one to call when something needed to be fixed or to lend a hand. He loved to get people laughing with jokes and teasing. He will be missed by many.
Calling hours will be Sunday, June 23rd from 5 to 8 PM at Teeters' East Chapel, 505 Church St, Hawley, PA. The graveside funeral service will be Monday, June 24th at 1 PM at Lakeville Cemetery, with Sarah Mountain, Chaplain for Hospice of the Sacred Heart, officiating.
Memorials may be made to Special Olympics, 1133 19th Street NW, Washington, DC 20036-3604