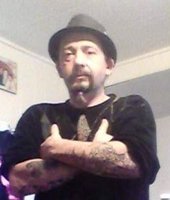 Carmen W Giannone
Carmen W Giannone, age 49, of Honesdale died Monday, October 7, 2019.
Mr. Giannone was born December 18, 1969 in Pompton Plains, NJ and was the son of Carmen Giannone and Lorraine (Pshyeyshefski) Rice.
Carmen loved fishing and NASCAR and enjoyed spending time with his nieces and nephews. He was a landscaper. Helping others made him happy.
He is survived by his mother: Lorraine Rice of Honesdale, one sister: Joanna & her husband, Jonathan Tassos-Decker of Hawley, PA and one brother: Leonard Sanders of Hawley, PA and several nieces and nephews.
Calling hours will be Wednesday, October 16th from 1 to 2 PM at Teeters' East Chapel, 505 Church St, Hawley, PA, followed by the service at 2 PM
Cremation will be at Lake Region Crematory in Lake Ariel, PA.
Contributions to offset expenses may be sent to Teeters' Funeral Chapel.